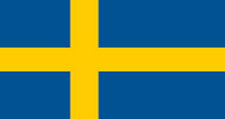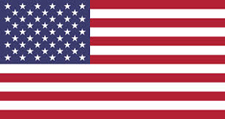 FASTY QUALITY - QUALITY OF SWEDEN



Sweden is the country that is known worldwide for quality aimed at safety, just think of Volvo cars !!!



"Simply... the Strongest Strap in its class" TM


OUR QUALITY GUARANTEE

We are the ONLY light load tie-down manufacturer in the world that offers a

LIFETIME REPLACEMENT GUARANTEE




The Most Decorated Strap in the World ~ Fasty Straps carries the prestigious ISO and TÜV (OSHA LAB) manufacturing certificates, making it the "Gold Standard" in tie downs, and we believe that we are the strongest strap in the world.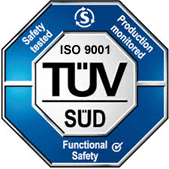 TÜV is one of the United States Occupational Safety and Health Administration (OSHA) Nationally Recognized Testing Laboratories www.osha.gov. The Fasty Straps have been extensively tested by TÜV and are the only light load straps that have a Certification by the TÜV which is the most famous and prestigious international testing laboratory that is present in all of the industrialized countries.

All the Fasty Strap competitors we know of indicate their own testing ratings for their new straps on their packaging. However, none of them have any independent laboratory testing certification of any kind.

Most of the webbing used by our competitors, especially by the Chinese manufactures, use inferior webbing materials that rapidly deteriorate with use and/or direct sunlight exposure. The comparative testing performed with the products of our competitors place their strength claims for new straps into question and seriously discredit their products once they have been used in, and/or exposed to, prolonged sunlight as many users have directly experienced.

According to the Swedish National Testing and Research Institute (SP), Fasty Straps' webbing strength is considerably higher than the values declared on the clamps. The Fasty "Quick Lock Clamp" is made of steel, which has many advantages over cast zinc/iron clamps.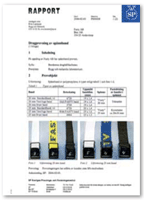 Our Oversize clamp makes the strap much easier and faster to thread, especially if work gloves are worn.


It is stronger and lighter than zinc or cast iron clamps.


Every Fasty clamp is treated with environmentally friendly corrosion resistant coating, which meets or exceeds "Volvo Corrosion Standards"... one the automotive industry's highest anti-corrosion standard requirements.


The Fasty clamp is finished in black, environmentally friendly zinc/iron trivalent chrome.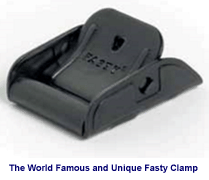 Fasty Clamp ~ We have developed proprietary technology for the fully automatic fitting of our clamp, and the only company in the world to do so. To ensure maximum quality and reliability, every single Fasty Strap clamp is individually inspected before being fitted to our straps which ensures extreme durability.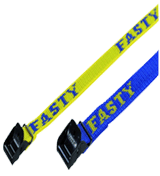 Our Webbing ~ Our High Tenacity Polypropylene (HT PP) webbing provides maximum durability and is designed for strength as proven by rigorous testing by the Swedish National Testing and Research Institute. Here are some of the reasons why Fasty Strap webbing is superior.


UV inhibitor treated to a resistance of KLYS 150.


Fasty Straps have extremely high resistance to color fading. Our straps are woven in the polypropylene strap color at the beginning of the manufacturing process. We don't "make it, and dye it later", as is usually the case with some of our competitors inferior polyester webbing.


Fasty Straps have HIGHER MOISTURE RESISTANCE than regular polyester belts.


Fasty Straps are manufactured to "Green" VOC (Volatile Organic Compounds) requirements.


The new Fasty Straps has been tested by the Swedish National Testing and Research Institute with impressive results. The 25mm or 1 inch wide straps proved a webbing strength of 596 kg or 1,314 lbs. As far as we know, the strongest and most reliable "light load" straps available anywhere in the world.



So Quick, So Easy, So Tight ~ Fasty Straps are the easiest and quickest light load tie downs in the world. Just easily insert the strap through the clamp - pull the strap tight. That's it!

You can literally tie a Fasty Strap securely tight with your eyes closed, in just seconds - truly remarkable!


Color Coded Lengths ~ Our standard straps are sized by color, see our product page for sizes. We also cut our strap ends at an angle for easy insertion and then heat seal them to prevent fraying ... at Fasty, we call it "going the extra mile" for our customers.