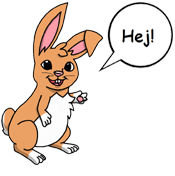 Hi, or better ..... "Hej" ..... as we say in Sweden !!
I am the Fasty Wabbit, ..... yes, with a "W", that is the way I talk. I am Miss Fasty's pet, ..... we just LOVE to spend time together !! She met me in Sweden when she visited the FASTY factory. I offered to be her pet which she readily accepted. Miss Fasty took me to the USA ..... very scary ride on that noisy airplane !!! When I arrived, I did not have a passport, ..... but the customs agent let me through with a smile and a scratch behind the ears, ..... that was nice !!!
I am now in the USA, living with Miss Fasty and going with her on all of her adventures.
Some facts about me:
Place of Birth: Sweden
Gender: Female
Age: Young
Height: Short
Status: Single, ..... but I've signed up for online dating !!
Favorite Sport: Running ..... some times I need to ..... when a dog gets too friendly !!
Favorite Runners: Usain Bolt, Stephen Kiprotich, and Paula Radcliffe
Favorite Actor: Dennis Hopper
Favorite Singer: Eddie Rabbitt
Favorite Comedian: Carrot Top
Favorite Food: Buns
Favorite Auto: Volkswagen Rabbit .. and Volvo cars too...of course!
Favorite Music: Hip Hop, ..... I said a hip hop, the hippie, the hippie, to the hip hip hop, and you don't stop
Favorite Technology: Rabbit Ears
Favorite Book: Rabbits for Dummies
Favorite Movie: Hare-e Potter
Favorite Joke: Q: What do you call a bunny that has fleas? ......... A: Bugs Bunny!
Who do you aspire to be most like : Energizer Bunny
Favorite Beach: Rabbit Beach, Lampedusa, Italy.
Favorite Celeb: Miley Cryus - She loves rabbits
Dislikes:
Stew - For obvious reasons.
Donald Trump - He built a golf course on my den so that Tiger Woods could play on it, ........ grrrrr !!
Apple Computers - Shudda called them "Carrot Computers"... it rhymes better and much yummier.
Taylor Swift and Selena Gomez - I'll change my mind, if they become rabbit lovers too - I actually DO love their music.